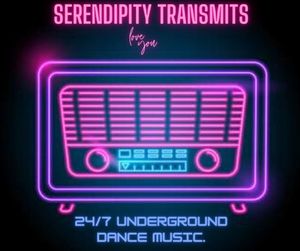 SERENDIPITY- TRANSMITS-24/7
Serendipity Transmits pushes forward-thinking music from past to present... expect a few surprises...
Serendipity  Transmits is an internet radio station devoted to playing the very best in underground dance music all day every day. Drawing from  global underground House, Techno Soul, and other dance genres our station is focused on delivering the highest listening experience to those who crave a more cutting-edge musical journey. We keep the groove flowing 24/7, allowing our listeners to tune in anytime they need to get their fix. From Veteran DJs to new artists emerging on the underground music scene, we're here to give your playlist a much-needed refresh. If you've been searching for an internet radio station that consistently delivers the freshest tracks, then look no further-Serendipity Transmits has what you need.
Current guests include
Leo Electroid,
Sassy Wylie, Farrah Scott, Colin Dale, Sherrine Leigh,
Derrick Patterson, Thomas Barnett (Detroit), Jon Dixon (Detroit), Alex Knight, Will Buckley, 
Julian Garnett, Neil Martin, Mr Shiver,
Richard Denahy, Si Brown,Junior Richards,
 Marco Arnaldi, DJ Amazon, Nick The Record.
Add a tip to help the station grow
A small donation of any sort will help Serendipity Transmits stay online, so you the listeners can benefit from what we provide. Many Thanks and big love
Enter the amount you wish to donate
FEEDBACK -AND-SUGGESTIONS